Guest Lecture: Development and Ecosystem of Decentralized Applications on the Ethereum Blockchain: Decenter – Nikola Marković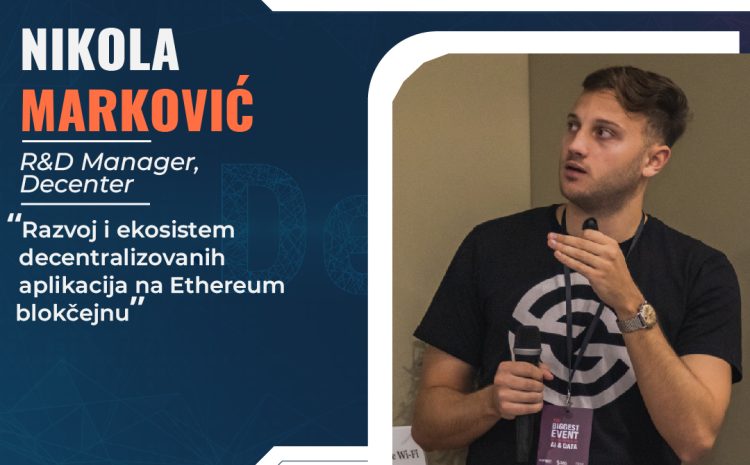 On Monday, November 6, 2023, at 6:15 PM, we will have the pleasure of hosting Nikola Marković, R&D Manager at Decenter.
Decenter is a research and development center that supports the development of startups focused on building products on the Ethereum platform. They represent a group of enthusiasts dedicated to building a more decentralized Internet using the latest Web 3.0 and blockchain technologies. Some of their previous projects include generative NFT projects and blockchain games. Today, they are primarily focused on DeFi Saver, a web application for managing decentralized finance, or DeFi.
Decenter recognizes many issues in how the current Internet is organized and how society uses it, but they also see an opportunity to improve various services using Web 3.0 and blockchain technologies. Their mission is to enhance global financial services through decentralization, transparency, and barrier-free access, as evidenced by the rise of DeFi.
Nikola Marković, R&D Manager at Decenter, will be a guest at the Faculty of Organizational Sciences and will deliver a lecture at the Department for e-Business. He will talk about an introduction to blockchain technology, business development, and the development of decentralized applications on Ethereum, with a focus on decentralized finance (DeFi).
Date and Time: November 6, 2023, at 6:15 PM
Location: AMF 5, Faculty of Organizational Sciences, Belgrade